Situated in a cherished 'hameau' at an altitude of 1550m, ski in - ski out chalet La Piste
occupies a privileged position, yet within easy access of the busy centre of Haute-Nendaz. Set in a peaceful and beautifully picturesque location, the chalet has breathtaking views across the Rhone Valley. In winter the 'hameau' is largely
a car-free zone
, preserving the natural beauty and inviting for enchanting walks. The residents, as well as the many holiday guests, transport themselves mainly by foot and snow scooter taxi.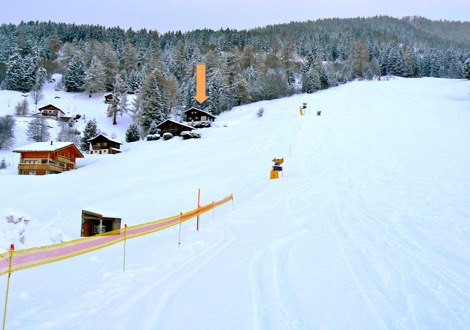 (Ski in - ski out movie: Press Play button inside the picture.)

















The access from your private parking to the chalet is normally on foot (about a 5 minute walk uphill). To smoothly arrive with your luggage at first arrival,
guests are welcomed at the parking by our private driver with Polaris snow-quad *
. He will ensure that your luggage will be safely transported over the ski slope and dropped-of at the chalet grounds. This luggage transfer is included in your stay.


Once arrived at this superb ski in - ski out chalet, you will find everything you need for a truly relaxing and memorable stay in the Swiss Alps, whilst
having one of the largest ski areas at your front door
. During your stay you may easily visit the charming center of Haute-Nendaz either by foot, car or ski.

In the center of Haute-Nendaz you will find several shops, an ice-rink, a 5-star
luxury spa & wellness
, a tourist information office, large supermarkets, sports rental shops, banks, restaurants, bars, etc. To visit the charming center, you take a snow path (approx. 75m/ 230 feet) downhill, to a flat road at which your private parking is situated. From here, a 3 minute drive, or a convenient 15 minute walk, will bring you to the resort center.


At the hameau itself you will find a cosy ski bar and a friendly local restaurant, at 5 minutes walk from the chalet. At evenings you may enjoy the magnificent night views at the chalet and the cozy log fire.

The chalet offers all the luxury and comfort you need for a truly relaxing stay, on an excitingly romantic location. In short, the perfect place for demanding winter sports enthusiasts.


* Luggage transfer at arrival is included in your stay.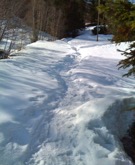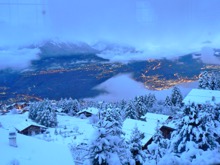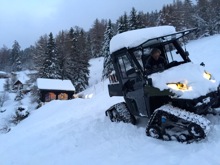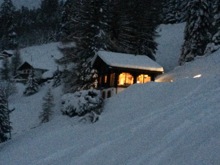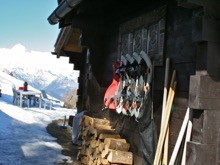 •
Map & location chalet La Piste [Please click here]